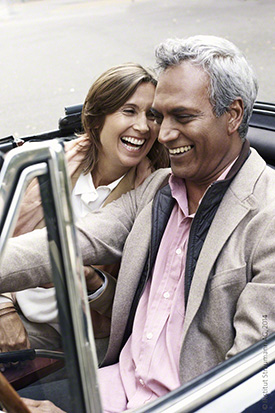 Single- and Multiple-Tooth Replacement
If you lose a single tooth, a dental implant is an excellent solution. Why?
The dental implant replaces the missing tooth root, leaving the healthy neighboring teeth intact. The implant also acts as a support for the implant crown by transmitting chewing forces to the jaw to avoid bone resorption.
With conventional methods, the two healthy neighboring teeth must be ground down to support a bridge in place of a missing tooth. This results in a loss of natural tooth surface, and bone deterioration may occur as the bridge does not transmit chewing forces to the jaw.

A dental implant is also a cost-effective option. If you must decide between conventional crown and bridge and a dental implant restoration to replace a single tooth, there is also a monetary aspect to consider. According to a study1 on long-term costs, a single dental implant is regarded as a cost-effective option in comparison to a traditional three-unit fixed dental bridge. The cost difference on the latter is equalized in about seven years.
1Vogel R1, Smith-Palmer J, Valentine W. "Evaluating the health economic implications and cost-effectiveness of dental implants: a literature review." Int .1 oral maxillofac Implants. 2013 Mar-Apr; 28(2): 343-56.
Bridge the gap of several missing teeth permanently with a Straumann dental implant solution.
If two or more teeth are missing, shifting of the remaining teeth could result, as well as bone loss in the jaw. From both functional and psychological viewpoints, missing teeth should be replaced as quickly as possible.
The advantage of a dental implant-supported bridge is that healthy neighboring teeth can remain intact. This helps to improve their long-term health and preserve jaw bone. The implants also act as a support for the implant bridge, transmitting chewing forces to the jaw and avoiding bone loss that occurs with missing teeth.

Implant-Supported Dentures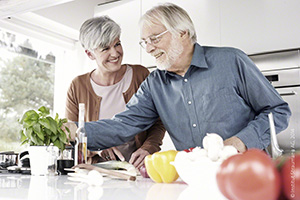 Regain good quality of life with a fixed Straumann implant-supported denture solution. Implant-supported dentures can provide a better fit and higher stability than conventional ones.
Even the best conventional denture will always be a foreign body in your mouth that requires extensive care. In contrast, an implant-supported denture will stay securely in place, looks natural, and requires less home care.
The decision to replace your missing teeth with an implant-supported denture from Straumann is an excellent investment in your appearance and long-term oral health. In addition, your ability to speak, eat, and laugh is improved while your physical appearance is enhanced.
Fixed Implant-Supported Dentures
Straumann full-arch solutions replace missing teeth in the upper or lower jaw, with a full arch denture supported by four to six dental implants. These implants provide secure and lasting support for the denture.

Removable Implant-Supported Dentures
If the fit of your conventional dentures is a concern, removable implant-supported dentures can be a beneficial option. Removable implant-supported dentures are attached to dental implants, but can be removed daily for cleaning. The implants act as anchors for the retentive components attached to the denture, which allow the patient to remove and re-attach the denture.

Bone Regeneration
Building bone for your dental implant placement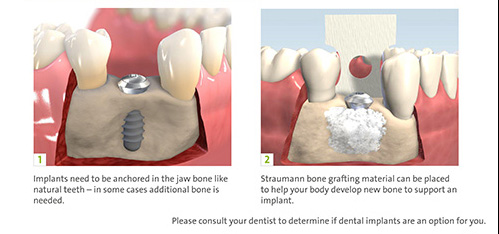 Dental implants need to be anchored in the jaw bone like natural teeth. If there isn't sufficient bone available, implants may still be placed with the help of bone augmentation — a treatment used to help the body build new bone.
What does it mean to have low bone volume?
When teeth are lost or have been missing for a long time, the surrounding bone may also deteriorate. If this happens and implants are to be placed, one solution is to rebuild the bone. Straumann bone grafting materials can be placed to help your body develop new bone to support an implant.
There are a variety of methods based on individual needs when it comes to bone augmentation, and your dentist will explain in detail should this affect you.
Bone augmentation: A routine surgery?
Bone augmentation is a standard procedure and can be done at the time of dental implant placement. The surgery may take a few extra minutes, but the patient will usually be unaware. In some cases, augmentation needs to happen prior to the implant treatment, and requires a healing time of up to six months before implant placement.
Bone Grafting Procedure and Materials
New bone is added where there is a lack of bone volume in the area around the implant. This enhances the appearance of the implant crown where it meets the gum line and helps provide the support needed for the implant.
Straumann offers a complete range of synthetic and biological bone grafting materials for this technique — please ask your dentist.
Can bone augmentation be avoided?
Under certain conditions—which must be evaluated by your dentist—the bone augmentation step may be avoided by using small-diameter Straumann® Roxolid® implants.
Roxolid® Less-Invasive Implants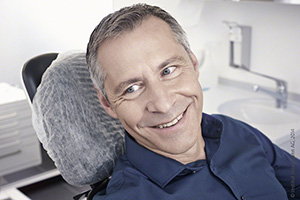 Dental implants are anchored in the jaw bone like natural teeth. If there is not enough jaw bone available, a bone grafting procedure can build new bone to support a dental implant. However, in certain cases — which must be evaluated by your dentist — this procedure can be avoided.
Straumann Roxolid implants can be used when smaller implants are necessary due to insufficient bone, potentially eliminating the need for a bone grafting procedure.
Straumann Roxolid is a titanium-zirconium alloy designed specifically for dental implants, and is stronger than titanium implants.1, 2 It is a material developed by Straumann for dental implants that offers even more strength than titanium implants. For dental implants, this strength means that the implant is able to bear a greater load.
With the option to use smaller implants and the potential to avoid a bone grafting procedure, treatment time may be reduced as the implant surgery requires fewer steps.
If a bone grafting procedure can be avoided by using smaller-diameter implants like Straumann Roxolid implants, tooth replacement can be less intrusive and minimize trauma and post-operative pain. Roxolid implants allow your dentist to use smaller-diameter implants with the same clinical performance as regular-diameter titanium implants3, helping to avoid a bone grafting procedure.
Whether a bone graft procedure can be avoided or not is a decision the dentist has to make upon the medical evaluation of each individual patient.
1 Norm ASTM F67 (states min. tensile strength or annealed titanium); data on file for Straumann cold-worked titanium and Roxolid implants.
2 Fatigue strength according to ISO 14801 internal tests. Data on file.
3 Benic GI, Gallucci GO, Mokti M, Hammerle CH, Weber HP, Jung RE. Titanium-zirconium narrow-diameter versus titanium regular-diameter implants for anterior and premolar single crowns: 1-year results of a randomized controlled clinical study. Journal of Clinical Periodontology 2013 Nov;40(11):1052-61. doi: 10.1111/jcpe.12156. Epub 2013 Sep 8.
Dental Implant Aftercare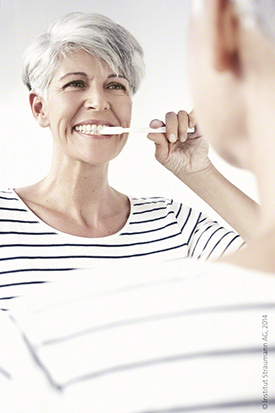 Straumann dental implants are an excellent tooth replacement option and investment in your oral health, and taking care of your implant is important to long-term success. As with natural teeth, implants require regular dental check-ups and diligent oral hygiene. Following these guidelines will help you maintain your implants for decades.
The Dos and Don'ts after Surgery
Complications are rare after placement of a dental implant, and stitches can usually be removed about seven to ten days afterwards.
Straumann solutions have been thoroughly researched and scientifically tested; however, there may be side effects. It is very important to contact your dentist immediately if you feel any of the following:
Swelling: cool it down – Cool the external treatment area as soon as possible after the operation to help prevent pain and swelling.
Pain: take your medications – If your dentist has prescribed medicine, be sure to take it as directed.
Oral rinses: be careful – In the first few hours after the operation, you should not use an oral rinse as it may cause bleeding.
Your temporary restoration: take care of it – While the implant is healing in your mouth, it may have a "healing cap" or a temporary tooth replacement. A healing cap is placed on the implant to allow your mouth to heal. Avoid chewing anything hard on the side where the implant was placed. This will help the implant to heal safely in preparation for the next step of your treatment.
When You Should Call Your Dentist
You feel a throbbing pain after the operation
You have a numb feeling at the implant placement 12 hours after the operation
You feel pain or swelling at implant placement several days after the operation
Bleeding continues
You lose your temporary replacement tooth crown
You have symptoms or questions not mentioned here
What to Avoid
1. Sitting is better than lying down. Keep your head up during the day and also at night.
2. Do not lie on the side where the implant was placed.
3. Do not drive in the first few hours after the operation. Your ability to drive might be impaired by the anesthetic or medications. Ask your dentist.
4. Do not use a toothbrush in the implant area of the mouth until the stitches are removed. Your dentist will recommend using an oral rinse several times a day instead of brushing your teeth.
5. Do not eat until the anesthetic has worn off.
6. In the first few days after the procedure, avoid alcohol, nicotine, coffee, black tea, sports, and physical exertion.
If you love your new teeth, look after them!
Diligent oral care can help your implants last a long time.
Use a soft toothbrush (changed regularly) or an electric toothbrush.
Brush teeth on the inner and outer chewing surfaces.
If prescribed, use interdental brushes for cleaning the spaces between teeth.
Routine Oral Hygiene at Home and the Dental Office
Both dentist and patient contribute to the long-term care of a dental implant. Regular checkups and preventive visits to the dentist are necessary to obtain your individual oral care plan from your dentist and be updated on special cleaning techniques. Good at-home oral care and regular dental checkups will help the implant site stay healthy.